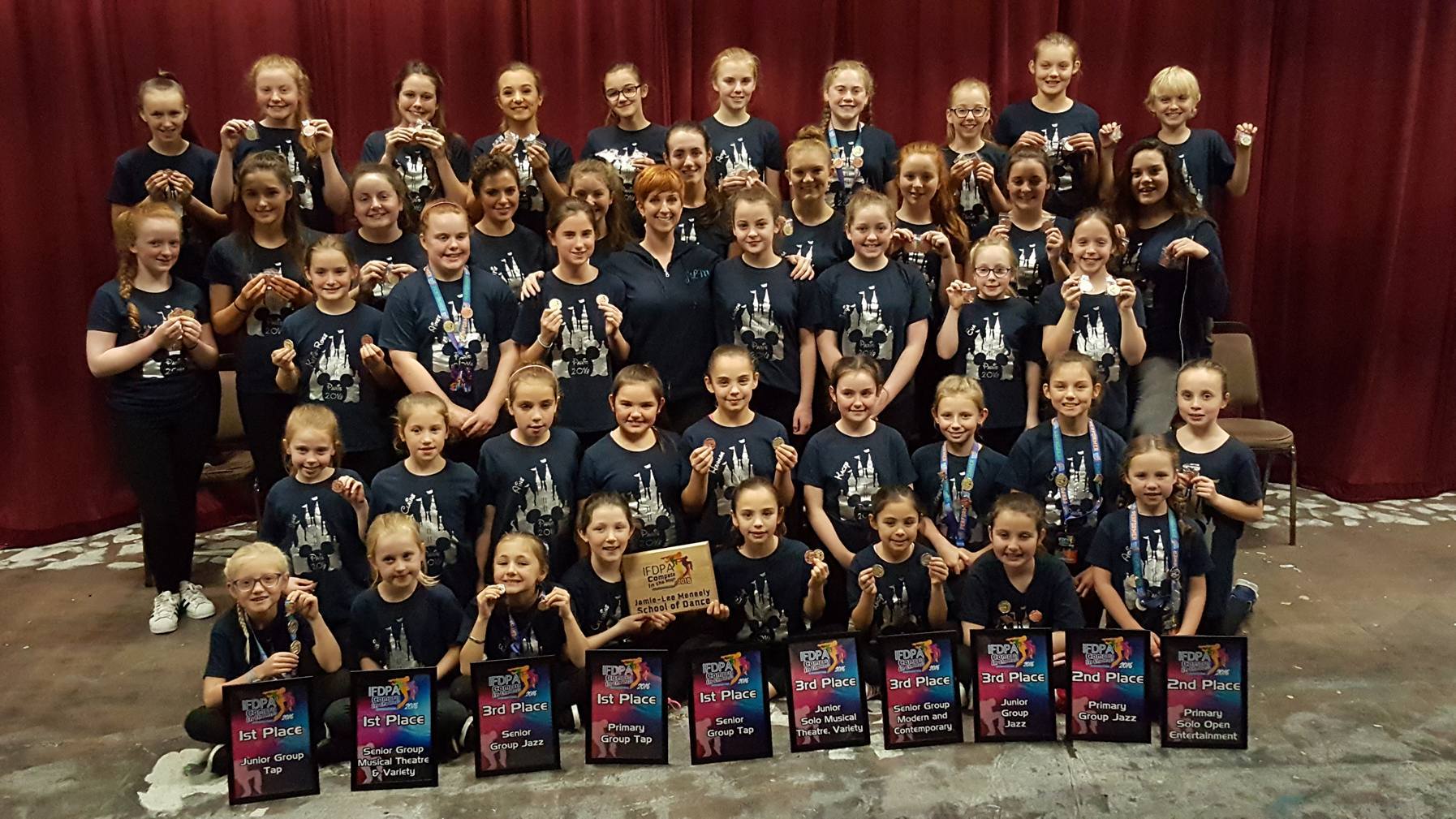 Over fifty of Bardic Theatre's young and aspiring dance students led by the Jamie-Lee Meneely School of Dance travelled to Disneyland Paris to compete at the International Festival of Dance and Performing Arts coming home with a suitcase full of awards.
Winning a grand total of Eleven Awards which included Eight Group Awards and three Solo / Duet awards;
           GROUP AWARDS
·      Primary Tap Group: 1st
·      Junior Tap Group: 1st
·      Senior Tap: 1st
·      Senior Musical Theatre: 1st
·      Primary Jazz Group (Ages 7 and Under):  2nd
·      Junior Modern Group (Ages 12 & under): 3rd
·      Senior Jazz Group (Ages 13+): 3rd
·      Senior Modern and Contemporary: 3rd
SOLO / DUET AWARDS
·      Katie (Aged 20) and Bronagh Moore (Aged 17): 3rd for open entertainment duet
·      Kathryn Chambers (Aged 12): 3rd for musical theatre solo
·      Aoife O'Neill (Aged 7): 2nd for Jazz Solo
"Thank you to each and every student who put 100% into each performance, to all the parents for their continued support and help." Jamie-Lee said "We got some amazing results but that aside, everyone gave their absolute all every time they stepped on stage and the hard work really paid off. It was fabulous to watch the students who have really made their parents and teacher very proud indeed. Thanks to all involved for giving us the memories that will last forever."
The students who range from 8 to 21 also took part in a Performing Arts parade that began at the Disney Castle and marched along the famous "Main Street, USA" along with other international schools from Russia, United States, France and the United KIngdom. Jamie-Lee Meneely's students also gave their very own showcase in the CinéMagique Theatre in the Walt Disney Studios Park.