Events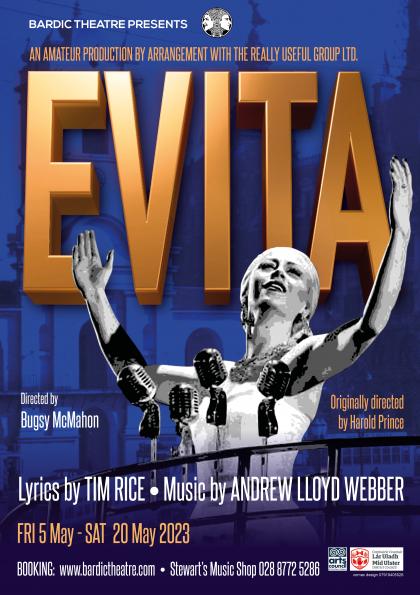 FRIDAY 05 MAY - SATURDAY 20 MAY
Bardic Theatre bring to the stage, for the first time, their production of EVITA with music by Andrew Lloyd Webber and Lyrics by Tim Rice. Directed by Bugsy McMahon.
Evita charts the young and ambitious Eva Peron's meteoric rise to sainthood. Set in Argentina between 1934-1952, the Tony-winning musical follows Eva Duarte on her journey from poor illegitimate child to ambitious actress to, as wife of military leader-turned-president Juan Peron, the most powerful woman in Latin America, before her death in her early 30's.

In 2023, Evita will celebrate 45 years as a stage musical , the incomparable Evita opened in London's West End at Prince Edward Theatre on 21 June 1978 – and has become beloved around the world ever since. Coming in at number six in a BBC Radio 2 listener poll of the UK's "Number One Essential Musicals", this legendary show continues to leave its mark on the world.

Featuring one of Andrew Lloyd Webbers best scores he ever composed including timeless hit songs 'Don't Cry for Me Argentina', 'Another Suitcase in Another Hall', 'Oh, What A Circus' and 'High Flying Adored' among many others.
TIME: 8.00pm // 7.30PM (Sunday Evening Performances)
PRICE: £20.00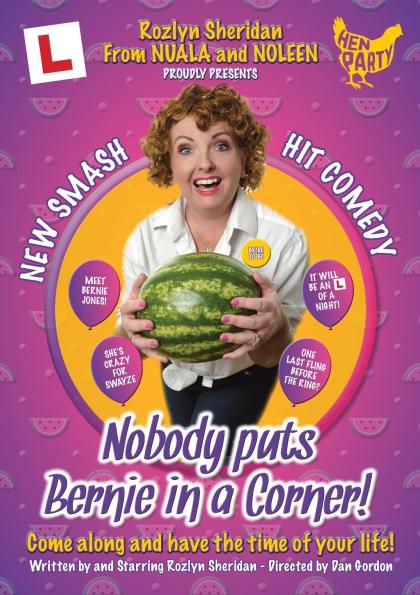 Nobody Puts Bernie In A Corner
NOBODY PUTS BERNIE IN THE CORNER! 
Join Bernie Jones on her crazy "Dirty Dancing" themed hen party and get ready to meet her madcap family and friends while you have "The Time Of Your Life!" Bernie is a single mother to her stroppy teenage daughter and from her living room runs an ironing service called "Let's Get Steamed!"
When Bernie's long-suffering driving instructor pops the question she reluctantly agrees and sets the date! Will she make it down the aisle or will she discover her real-life Johnny Castle? 
This high energy, hilariously funny comedy show features 90's disco classics and some iconic songs from Dirty Dancing! 
If you're crazy for Swayze and fancy a bit of salsa in your Karaoke, then join Bernie Jones for a wild night of fun and laughter and let's get this party started! 
PRICE: £20.00
TIME: 8.00pm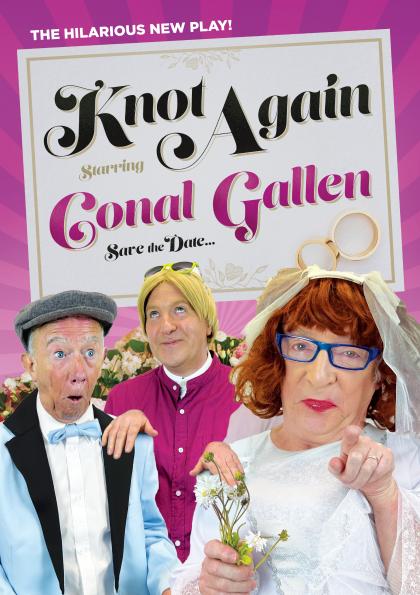 Knot Again starring Conan Gallen
Are you ready for the wedding of the year?
It's the hilarious brand new Comedy play, written by Conal Gallen and his son Rory. Bridie and Willie Murphy are renewing their wedding vows! Fr. Big Mad Micky O'Reilly, Betty Head and her son, Dick all make a welcome return, along with some new and old guests! Nothing goes as planned, As Bridie convinces her hapless husband Willie to renew their wedding vows in the hope that she will get a whole new kitchen! The comedy and confusion will keep you in stitches!
Early booking is strongly advised.
Time: 8.00pm
Price: £25.00