Events
Some Songs & Stories with Christy Dignam & Joe Jewell
Wednesday 13 November 2019
Christy Dignam along with Aslan co-founder, and lifelong friend Joe Jewell bring their intimate acoustic show "Some Songs and Stories" to Donaghmore this November. The show features all the famous Aslan songs plus many songs by other artists that influenced Christy and Joe throughout their career with Aslan. The lads tell some great stories about their lives in Irelands famous rock band Aslan.
The show is a must for any fan of Aslan, and it is really a very special treat to experience this great show in such an intimate theatre environment. Christy Dignam is regarded as one of Irelands greatest singers and performers ever. Despite Christy's recent health scare, he is still performing and has never sounded better.

U2's Bono is a big fan of Christy, and has said about Christy "What a voice, what a voice, the Angel of Dublin ". U2 invited Christy to perform with them at their recent sold out Dublin gigs, but Christy had a prior engagement at a charity fundraiser show ,and had to turn down the invite from the Ireland's biggest rock export.

There is some great humour to be heard in many of the stories that Christy and Joe tell. It's two lifelong friends since childhood in Finglas, Dublin who lived the rock and roll dream, and survived to tell the tale.
Time: 8.00pm
Price: £20.00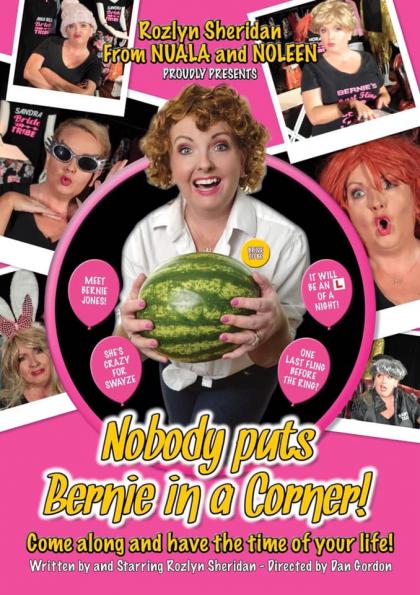 Nobody Puts Bernie in a Corner
Saturday 16 November 2019
Join Bernie Jones on her crazy "Dirty Dancing" themed hen party and get ready to meet her madcap family and friends while you have "The Time Of Your Life!"
Bernie is a single mother to her stroppy teenage daughter and from her living room runs an ironing service called "Let's Get Steaming." When Bernie's long-suffering driving instructor pops the question she reluctantly agrees and sets the date! Will she make it down the aisle or will she discover her real-life Johnny Castle?  This high energy, hilariously funny comedy show features 90's disco classics and some iconic songs from Dirty Dancing! If you're crazy for Swayze and fancy a bit of salsa in your Karaoke, then join Bernie Jones for a wild night of fun and laughter and let's get this party started!
Time: 8pm
Price: £16.00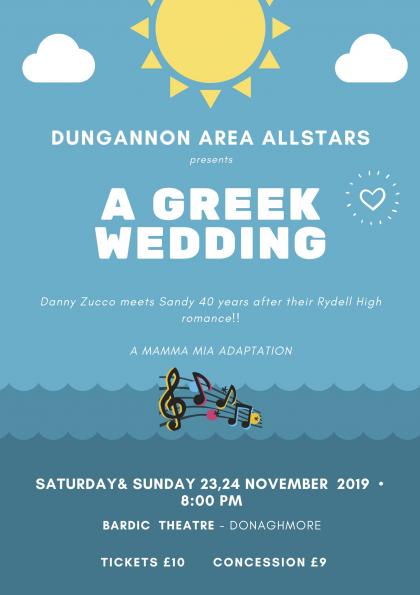 Saturday 23 & Sunday 24 November
Dungannon Area All Stars return to Bardic with their adaption of Mamma Mia in the style of rock n' roll. 

Forty years after their Rydell High romance, Danny unexpectedly meets Sandy again on the occasion of a wedding in Greece. He discovers he may even be the father of her daughter, whom he has never seen! Mayhem ensues.

Will Danny's and Sandy's romance blossom again? Set on a colourful Greek island, "Macarena, "Tonight's Gonna be a Good Night", "Let's Get this Party Started" and many classic Abba hits, set the tone for this hilarious and uplifting, feel-good show, brought to you by the wonderfully talented Dungannon Area AllStars. Unmissable!
Time: 8.00pm
Price: £10.00 & £9.00 (Concessions)