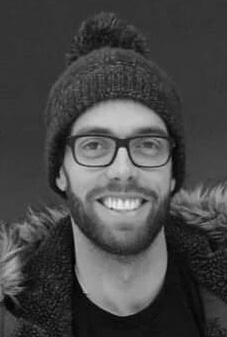 Hi Finton, Welcome to your very first interview with BardicTheatre.com, cheers for taking some time out from the rehearsal room. You've been with us for the best part of a decade for but pershaps not everyone knows you so let's begin with the basics...
1. Tell us a little bit about yourself?
Well...I'm a lowly Civil Servant, in the 21-35 bracket and working in Cookstown at the minute. I have a four year old son who tells me what to do most of the time and I have recently gotten engaged to my wonderful girlfriend Grace, who tells me what to do the rest of the time.
2. How did you first get a taste for the spotlight? 
The first thing that I ever performed on stage, well I say stage but it was for a charity night in a pub, was sing 'Satisfaction' by The Rolling Stones. A party piece that has unfortunately lasted the test of time. This gave me a taste for performing and I sort of built my way up from minor parts in musicals to getting a few lead roles in shows such as 'Philadelphia, Here I Come', 'Blood Brothers' and 'Rock of Ages'.
3. Who will audiences get to see you as in this production of Jesus Christ Superstar? 
 I will be playing King Herod in this year's production and I'm looking forward to it
4. How might you describe King Herod? He seems a likeable character based on his camp rock song but perhaps he's really a bit more sinister? 
It really depends what adaptation of the show you want really. In the 70's film version Herod was a bit of a hippy with a sinister side. In the 2000 version Rik Myall played him more camp with an evil twist and with the recent arena tour Herod is portrayed as a Game show host. I think my take is a bit of all three really. A sinister camp hippy game show host with an evil twist! 
5. How long have you been with Bardic and whats been your favourite role? 
The first show I did with Bardic was Blood Brothers in 2011 I think. I think I had 13 costume changes in that one and Conor Begley had 12. I think my favourite role within the Bardic shows has been the part of Lonny Barnett in Rock of Ages. I loved the fact it allowed me to break the fourth wall. A great send up of 80's LA glam scene. 
6. We last seen you on stage in a Bardic musical as Lonny, among others, in Rock of Ages in 2016. What have you been upto since?
I won't lie . . .it took me a while to sober up after that show but by October I was reasonably dry and travelled to Russia to help with the Bardic's production of 'The Cripple of Innishman'. This was a fantastic experience, something I'd say won't ever be repeated. We literally drank the pub dry of beer. I sat out the next Bardic Show 'All Shook Up'. It was great to be able to sit and enjoy watching my friends on stage for a change. You don't every appreciate how good a show is when you are in it or at the side of a stage watching until your a member of the audience.
7. What's been the most enjoyable bit about the rehearsal process?       
Getting to see everyone again after not being in the last production I think and also getting to meet lots of new faces. There a few new faces that I haven't had the pleasure of being on stage with before so I'm looking forward to the run
8. What do you think it is about Jesus Christ Superstar that has made it timeless? After all 2018 is 37 years from the first recording was ever released!
To be fair the story is a lot older than that and people are still reading it too! Andrew Lloyd Webber and Tim Rice have brought it to life and gave people an insight into the possible "Trials and tribulations" (see what I did there?) that the characters would all have been going through. It helps people picture and imagine the possible relationships and struggles and the score was ahead of it's time. A product of the classic 60's and early 70's rock bands.
9. What do you look forward to most ahead of opening night? 
I look forward to the comradery of it all. Everyone is in it together and the buzz you get after a show, especially opening night, is great. Pints after the show are great too so that's always a bonus!
10. Do you have a favourite part in the show that audiences might not expect?
There is a part in King Herod's song in this new production where he becomes a bit of a Game Show show host but I also have some time here for a bit of 'audience interaction' so I am looking forward to that. As in Rock of Ages and Broadway to Bardic before, I will be trying to make this different every night so I would advise people in the front few rows to be very nice to me…:-). 
Thanks Finton. BardicTheatre.com wishes you well and we can't wait to see you as this exciting new King Herod from next Friday 26th January. Tickets for #BardicSuperstar can be booked online from here and from our Box Office at Stewart's Music Shop, Dungannon - Tel: 028 87 761 859