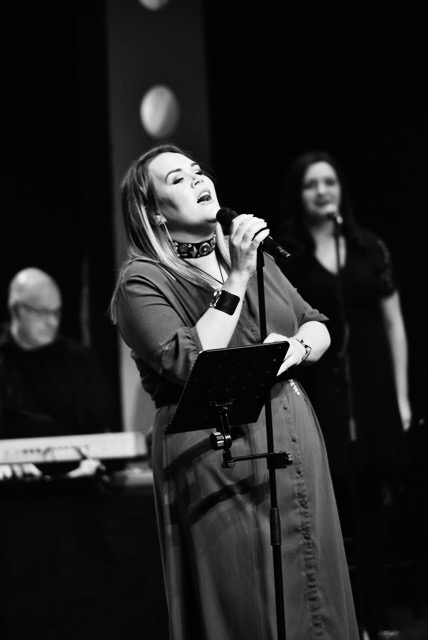 Quite simply a woman who needs no introduction. Now artistic director of the Bardic, Stephanie is now in her fifth year of directing our annual musical offering. BardicTheatre.com caught up with Stephanie amongst an extremely tight and busy technical rehearsal ahead of this Friday's opening performance. 
1. Hi Stephanie, welcome to your very first appearance on Bardic Meets. The most obvious question is How do you juggle all three roles of; A Producer, Director AND an on-stage performer? 
Sometimes I ask myself the same question as it can become a struggle especially during the run up to the show's opening - a demanding time.  For me, it's a case of prioritising your cast firstly, insuring they know what & where they need to be scene by scene. Followed then by band, technical & backstage crew.  Once they are all confident in what they are doing, I then take care of myself & my own onstage role....it can be stressful, but like everything - I get there!! I enjoy the directing role immensely but I have to say, for me performing remains my firm favourite of the two.
2. It must be very tiring, I'd imagine free time is a simple luxury at this stage, but what do you like to do?
Haha! It can be tiring to say the least  especially when juggling it with my day to day work too!  It's the same for us all in the cast though to be fair but I think I speak for most of us (if not all) in saying that once the show opens, the enjoyment and buzz you get and ultimately then live off for 3 show weeks makes all the hard work & stress times worthwhile.  Once the show closes, the withdrawals can make an appearance especially in years gone by, but I have discovered (as I get a little older) you do appreciate a little more free time again to have days to yourself be it simply to do nothing, go shopping, out for dinner, to the theatre etc.
3. And who will audiences get to see you perform in this years production of Jesus Christ Superstar?
Ten years ago I played the role of Mary Magdalene and I am pleased to be performing the same role in this year's production which offers a completely different take not only on the character but the production as a whole!
4. As you have played this role before, would you consider it your favourite role to date?
I do enjoy playing Mary Magdalene both then and now! Her songs are some of my favourite within the musical theatre genre.  That said, of the roles I have played to date I wouldn't say it's my ultimate favourite.  Mrs Johnstone in Blood Brothers remains on top for that title! 
5. You recently got engaged and no-one is more delighted for you and your fiancé Tony than all of us at BardicTheatre.com.  With lots of well wishes across all the many Bardic Theatre social channels flooding in, How was it for you? Was it expected? 
Ah thanks a million! And thanks to all the well wishers on Bardic's facebook and social media pages! It was a huge surprise and is a very exciting time, I have to say! But surely a wedding will be easy peasy to plan when I'm used to the demands of a Bardic Show?!?!?! Haha!
6. You've said from the outset that this production of JCS is a very contemporary reimagining production of the worlds greatest story, without giving too much way...What will make this show different from anything any audience will have experienced in such an intimate environment? 
I've always said for as long as I am directing musicals at the Bardic, I wanted to keep everything fresh and new.  Although JCS has already been performed at Bardic I assure our audiences this particular production resembles the others ONLY by script/score.  It's a quirky, modern day twist on this rock classic inspired by the most recent Arena Tour.  With clever choregraphy from Jamie Lee Maneely, masterful musical direction under Damian Cullen, sensational Set Design from Stuart Marshall, a larger than life Lighting Design by James C McFetridge & Widescreen Stage Visuals that wouldn't look out of place on Broadway by Jim McKeown, it really is one not to be missed!!!
7. Between last year's Bardic musical offering and this, you brought back your highly successful 'A Night with Steph & Friends' to Armagh. Some might say a massive undertaking but by all accounts it paid off. How did that feel to have such a level of success on your first attempt at a rather ambitious show that you devised?
Ah, it's one for the memory books that's for sure!  Such an enjoyable, special and unforgettable experience that I feel very lucky to have had.  One that I may re-live in years to come....who knows?!
8. As the grand-daughter of Bardic's founder, Sean Faloon, what's been the greatest piece of advice in the theatrical world he's given to you?
"Keep Malachy McCullagh (Bardic Chairman) happy and you're flying!" 
Haha....I'm only joking! He has given me so much advice over the years it's hard to pick just one piece as the best....but ahead of directing debut @ Bardic he did say:
"Earn the respect of your cast, creative team, band and all your crew & you will achieve anything you set out to!"
9. What is your dream musical(s) you'd like to see on a Bardic stage in the future?
Without hesitation, I would have to say Matilda or Billy Elliott.
10. Your Theatre School, Showstoppers Musical Theatre School For Youth, has been going for years? It's the future generation of not only talent for Bardic but perhaps the next future West End & Broadway star. How important is grassroots theatre to a local town and community? 
As you say, the pupils of Showstoppers and of course the Jamie Lee Maneely School of Dance are the future of the bardic.  That in itself speaks volumes of how important they already are within our community.  The talent within both schools is not to be wasted,  hence why in my previous question I didn't hesitate in answering Matilda/Billy Elliott.  As much as we value them, what the kids get from it is invaluable - confidence, development of their skills, freedom of expression and experiencing that onstage buzz that is indescribable and something that stays with you in life.  Children and young people just bring that little extra special something to a production both on and offstage, so going forward I am keen to have them involved again.  
Brilliant Stephanie, manythnaks for your time. Oh and from what I've seen of the recent tech run, this particular production is technically outstanding. So rock 'n' roll! Best wishes for opening night. As the old saying goes 'Break A Leg!'
#BardicSuperstar opens this Friday night with limited tickets left for this week. Click here and grab yours now before it's too late.