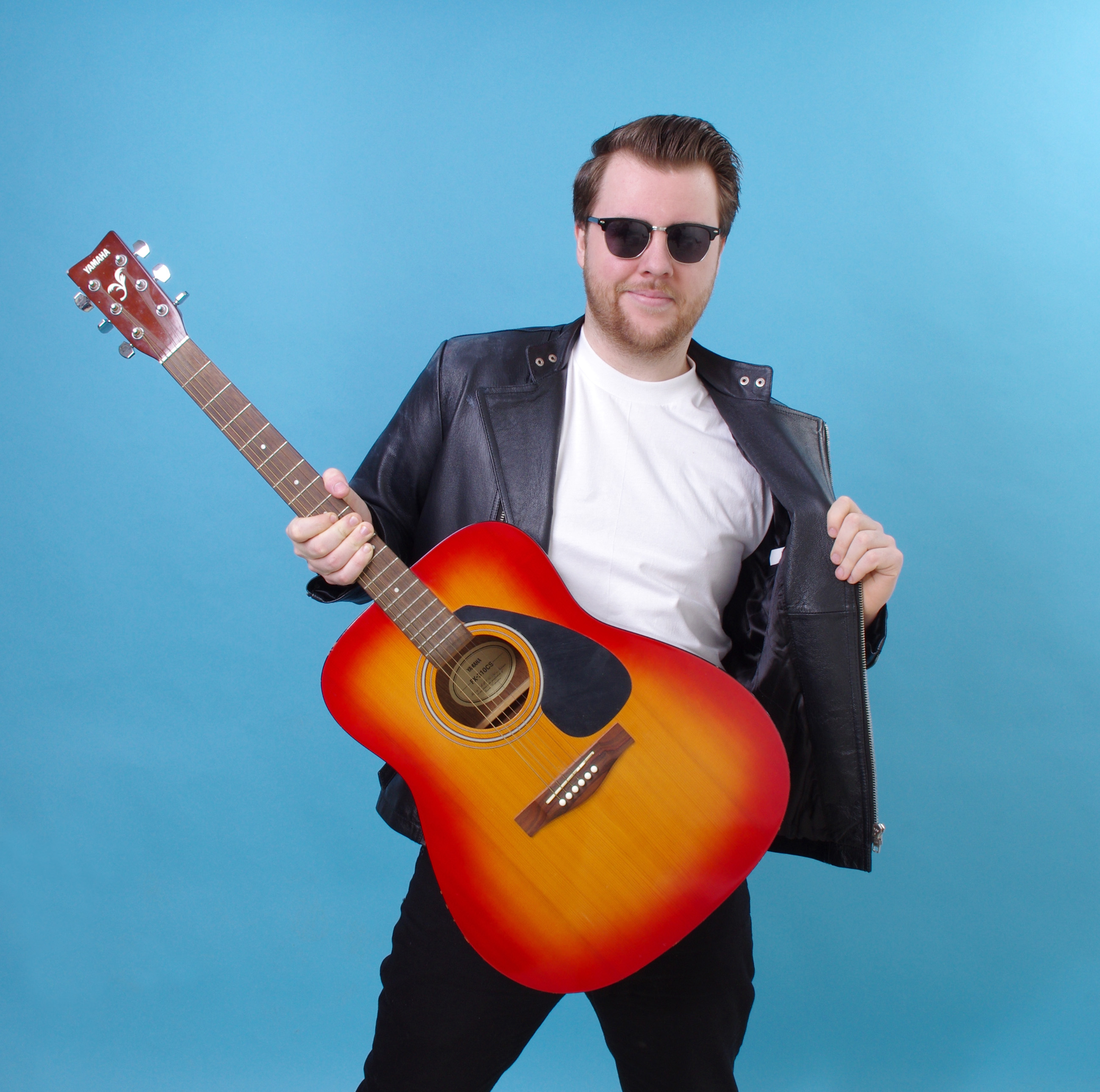 'Bardic Meets . . .' continues today with the star of our show, Sean O'Neill from Ardboe who takes on his first lead role in a Bardic Theatre production. He'll be playing the rostabout himself 'Chad' in All Shook Up
Hi Sean, Thanks for dropping in with BardicTheatre.com, here we go . . . 
1. You've been with Bardic for two years now but this is your first starring role, how does that feel to have that honour so soon? 
Yes! I was part of the Rock Of Ages Cast last year and it was an amazing introduction in to life at Bardic Theatre. Everyone was so welcoming and just as enthusiastic as myself with theatre. Once I heard about All Shook Up, I was ecstatic and couldn't wait to get started, especially looking forward to the choreography from Jamie-Lee Meneely. Then I was asked if I would audition for the leading role of Chad. At first I was in total shock, I couldn't believe it that not only did I get a principal role, but he's also the male lead! I've been enjoying every bit of the rehearsal process since and I'm as ready as can be to share the stage with such a phenomenal cast and crew! It's been such an honour. 
2. Is 'Chad' as rough and ready as he sounds or is it just for show to the ladies, maybe he really is a 'good guy' deep down at heart?
Chad is just a hip-swivelling free soul, I think. He's a rovin' roustabout, going from town to town with a song in his soul and a love for the ladies. However he's never really had a true purpose in life to make him care about someone deeply apart from himself (and whoever the hottest girl was in whatever town he's in). When he meets and realises whom his true love is, that one person who is the music in his soul, he really shows his true colours, which, is that he is a good guy at heart. Chad has great development through the show and is such a fun character to portray, even if he does get a little confused along the way. 
3. All Shook Up has been cited as 'The best rock 'n' roll musical since Grease', do you think that's a fair comment and if so, why? 
I totally agree with that comment! The plot involves multiple characters falling in love and discovering who they really are. This creates a real 'feel-good' factor that any audience will enjoy and relate too just like Grease.
4. Favourite Elvis number from All Shook Up?
One that I really enjoy performing would have to be 'Don't Be Cruel', I sing with Jim, Natalie's father, played by Declan McGrath. It's such a fun number however I do have a spot for 'Can't Help Falling In Love'.
5. You've been with many theatre companies for a number of years, what's been your favourite role and why? 
Recently I was involved in a production of Guys and Dolls at CRAIC Theatre as choreographer. I was also asked to play Nicely Nicely Johnson, who sings one of the biggest numbers in the show, Sit Down You're Rocking The Boat.
6. Were you an Elvis fan growing up? Did you have a favourite song you always used to listen to? And again, why?
Elvis was always played in our house. My parents, my brothers and myself are all fans. The song I will always love is Jailhouse Rock, it's just so iconic. It was so inspiring to see a guy like Elvis dance and move, it looked so cool! 
7. Would you call yourself a dancer, singer or an actor first?
I love doing all three, but my strongest aspect would be dance. I have always loved dancing and theatre was a great way to do all three. When I was 15, a local choreographer, Sheena Kelly, saw potential and got me involved with DUDance NI, a Northern Ireland based company working intergenerational, intercultural and cross community projects. It's where I learned my basic technique and was encouraged to join contemporary courses and has also enhanced my creative side allowing me to create choreography for shows in local theatres. That's why I enjoy All Shook Ups' Chad. He has great dance numbers in this show, as well as a lot of Elvis like movements. I'll be showing off some of my best pelvic rotations to try and recreate that iconic figure. Chad represents the true essence of Elvis by breaking the norm and being rebellious in his dancing, as well as winning the hearts of the ladies. He's just so edgy, sexy and rock and Roll. Remember, you can't spell Pelvis without Elvis!!!
So be warned everyone, viewing this show could lead to infatuation of this character, including signs of wanting to jump from your seats and shaking your hips like there's no tomorrow! 
All Shook Up opens this coming Friday 03 February at 8pm. Last remaining tickets for premiere and other performances from here